Bully Prevention and Life Skills for Canadian Youth.
No Child Should Ever Feel Alone, Afraid, or Unwelcome in School
When Dare to Care has been tackling the crippling and pervasive issue of bullying since 1999. Because of our successful history, we are considered to be the most comprehensive bully prevention program in the country. In January 2020, we proudly reached the important milestone of 1,000,000 participants. Dare to Care was created with the understanding that one's mental well-being is a societal issue. If we are to have any impact in creating safe and caring communities for our children to thrive in, all stakeholder within the school community must be engaged in creating change. As a result, Dare to Care provides three flagship programs: 1) Innovative and grade appropriate student workshops 2) Parent Education 3) Extensive Professional Development for school staff.
Necessity
Equipping and mobilizing Canadian youth with the skills and courage to prevent bullying.
Activity
Providing age appropriate and innovative bully prevention workshops for students Grade K-9.
Countable effort
Number of students who have participated in the Dare to Care program.ge.
Result
Students understand their role in bullying situations and are no longer silent when experiencing or witnessing bully/target interactions.
Systemic effect
Systemic change within a school community whereby all the stakeholders (students, staff, parents) have built a caring community by mobilizing the 'silent majority"
Background
When 160,000 students miss school each day because of bullying, we need to do more. (National Association of School Psychologists) When 7 out of 10 Canadian youth drop out of sport by age 13, largely because of a toxic team culture, again, we need to do more. (National Alliance for Youth Sports) And when 50% of lifetime cases of mental illness begin by age 14, we MUST do more to provide our children with the education and support so they can thrive in life, learning and play. (World Health Organization) Bullying is a pervasive and crippling issue that affects tens of thousands of children and youth each day in Canada. Whether kids are exposed to bullying in schools, amateur sports, or within their own community, bullying does not discriminate. Individuals of all ages, genders, backgrounds, and socio-economic status are equally impacted by bullying and the results can have significant and lasting adverse effects on the mental health and wellness of children, youth, and adults.
The good deed
With your donation, you make it possible for one Canadian youth to receive the Dare to Care program. When witnessing bullying incidents, 79% of students remain silent and ultimately only 4% of these incidents are reported to adults. At Dare to Care we believe that students are very caring and want to do what is right, whether that means standing up to the bullies or reporting incidents to staff. Unfortunately, without the support and the skills to do what is right, students of all ages are fearful that they will make the situation worse, that adults won't listen, and most of all, they fear being labeled as a 'rat' or 'tattler'. Through grade appropriate workshops, students are provided with the knowledge, skills, and bystander training necessary to make a difference in their lives and in the lives of others so everyone can thrive in life, learning and play.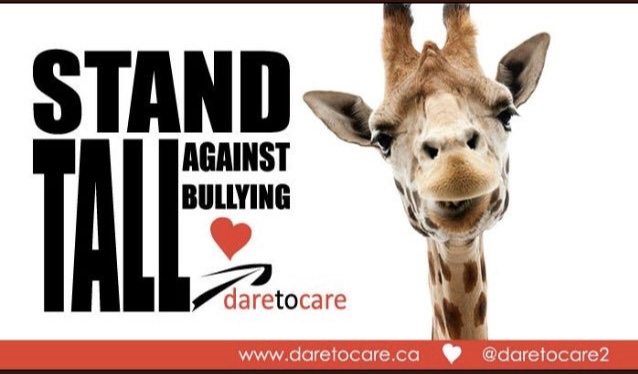 AboutCanada

Ottawa 37,600,000 US$ 52,144 Placed 9th out of 189
Canada has ten provinces and three territories covering 9.98 million square kilometres (3.85 million square miles), making it the world's second-largest country by total area. Of the roughly 38 million inhabitants, 4.86 million are children who attend elementary school or secondary school. According to Statistics Canada data, there are approximately 15,500 schools in Canada: Canadians are known to be some of the most polite and peace-loving human beings on the planet.
About the organization and further information
Dare to Care
Website
Further information and source