Support & Learn
When can I get the background information on this year's good deeds for the classroom?
Educators can receive the information pack for the 24 given projects in advance in order to prepare for the class.
By donating $48 or $72, the impact of the good deed will be doubled or trippled.
The information material is also available if your class is not making a donation to 24 GOOD DEEDS.
Information material will be available by mid November as a PDF file. In order to receive the information material as a PDF, please follow these links:
Background information in English
Improve geographical knowledge
With the 24 GOOD DEEDS Charity Advent Calendar a school class will open the door to another place in Canada and elsewhere in the world every day. Students will not only learn where the place is located on the map, but they will also gain an understanding of how people there live, what challenges they face and how this might be different from their own way of life.
Understanding social and ecological challenges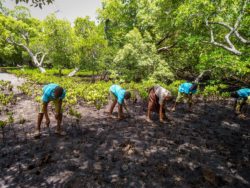 Behind every good deed there is a social or ecological theme, which is made tangible through the concrete solutions brought to the issue by the good deeds. The 24 GOOD DEEDS team has created comprehensive background information on every project which is made available to you and which can be used to encourage further learning about the context of the good deeds.
Discuss personal consumer behaviour and values
The calendar offers an alternative to traditional holiday consumerism. Your students are offered the opportunity to share their personal impressions and encourage each other to adopt more conscious consumer behaviour.
Developing solutions
Through raising awareness about global challenges, the 24 GOOD DEEDS Charity Advent Calendar encourages action. The good deeds are examples of the many creative and effective solutions to the world's problems, and they provide students with the sense that they carry responsibility to take on these challenges and contribute to solving them.