Full speed ahead!
Bicycles for children in Zambia
At dawn, 13-year-old Lizzie – like most girls her age in Zambia – has been on her feet for a long time. She has a lot to do: Every morning she begins her day by walking two-and-a-half kilometres to the well to fetch water for her family. She sits on the ground in front of the hut and washes the dishes in a bucket before making fire and boiling drinking water. Before she had a bicycle, Lizzie carried the 20 litres of water for her family on her head every morning. Now she can ride her bike to the well and safely carry the water on her luggage rack. On school days, things are still hectic for Lizzie after breakfast as well. In front of her are four-and-a-half kilometres to school. Not only is she much faster on her bike, she also saves valuable energy for her day. Lizzie dreams of becoming a nurse.
Necessity
Improved mobility for schoolchildren in rural areas of Zambia where the way to school is long.
Activity
Bicycle parts are assembled and pupils are provided with bicycles and can ride these to school.
Countable effort
Number of bicycle parts and bicycles provided to schoolchildren in Zambia.
Result
Children save time and energy and attend school more regularly.
Systemic effect
The schoolchildren improve their performance in school and educational opportunities and are thereby given the chance for a better future.
Background
According to the World Bank, more than 450 million people in rural Africa do not have access to jobs, education and health care due to a lack of modes of transport (Global Roadmap of Action Toward Sustainable Mobility, 2019). This is also the case in Zambia. Far away from the capital Lusaka in the countryside there are no school buses, no paved roads and no highways. The majority of the people live in houses without electricity and running water. The nearest water source or school, the closest health centre or market can be far away and often only reached by trails of more than 10 kilometres (Schmid D. et al., 2013). Many women and girls worldwide spend 200 million hours per day fetching water (Wallace R. A., 2016). The long distances mean that the children have to walk up to four hours to get to the next school. The majority of pupils are therefore often late or absent from school. This has an impact on performance and it is not uncommon for pupils to drop out of school prematurely. This affects girls in particular who, due to their cultural backgrounds, are subject to a double burden of having to also perform household chores.
The good deed
With today's good deed you are donating a bicycle part to a schoolchild in Zambia. Through your donation and the donations of many other people, children in Zambia can ride their bicycles to school instead of walking. With the Buffalo bike of the organisation World Bicycle Relief they can cover the long distances to school four times faster. This bicycle is particularly suitable for the bumpy roads in rural Zambia. It has a very sturdy luggage rack for transporting water or food. This saves the children an average of three hours of time and gives them much more energy for doing their homework. As a result, the children attend classes more often and perform better at school. For the children and their families, the bicycle makes everyday life easier and improves their educational opportunities.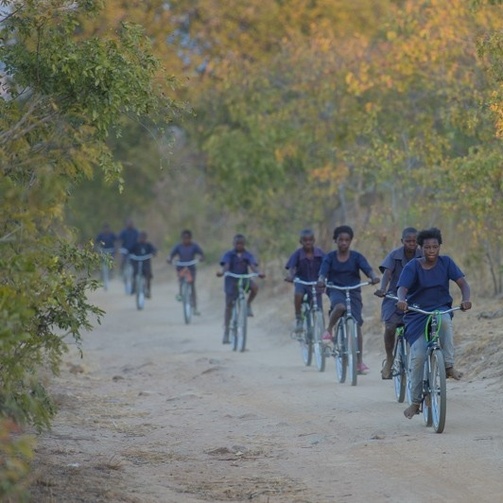 AboutZambia

Lusaka 17,100,000 3,577 Placed 144 of 189
45 per cent of Zambia's population is under 15 years old. The country is sparsely populated: On average, Zambia has 23 people per square kilometre (By comparison, Germany has 232 people per square kilometre).