Maths is easier in Arabic
Tutoring for refugee children
11-year-old Zeina comes home excited and falls into her mother's arms. "Mama, I did it. I got a B in maths." The family has been longing for this sentence since Zeina went back to school in Germany. She had always been the best in maths at home in Syria and homework was easy for her. After a two-year break, she is now also able to achieve good grades in Germany. After arriving in Berlin, Zeina initially had no prospect of learning her favourite subject. In the integration class, German was always the first priority. With her Arabic-speaking tutors, she can now catch up every Saturday afternoon with what she has missed in mathematics class in the last two years. The support she receives in her native language not only makes a lot of things easier, but also gives Zeina back some self-confidence. So school is fun again and Zeina sometimes even helps the other children with their maths.
Necessity
Tutoring for refugee children from Arabic speaking countries.
Activity
Teachers who have themselves been refugees support children in filling the knowledge gaps in their native language.
Countable effort
Number of minutes of tutoring provided to refugee children in Berlin.
Result
Refugee children improve their educational performance and find it easier to integrate into regular classes.
Systemic effect
Refugee children have better educational prospects and are able to participate in regular classes as well as their fellow pupils.
Background
Since the beginning of the armed conflict in Syria in 2011, 770,000 Syrians have come to Germany to apply for asylum (Hochmann, Weick, 2019). Among them are many families with children. Child refugees in Germany are also subject to mandatory schooling, as are all other children. This begins at the age of six and amounts to nine years of full-time schooling. According to estimates, 130,000 refugees entered the German school system between January 2015 and March 2018 (SVR, 2018). This means that the children either directly attend regular classes or first learn German in so-called integration classes. As a result of the migration, some Syrian and Iraqi children were unable to attend school for years. After seven years of being a refugee and displaced, there are now 14-year-olds who can neither read nor write or who have only little basic education. Moreover, some children in Germany are struggling with learning difficulties caused by trauma or stress as a result of living in institutions and emergency shelters. In integration classes the children learn German, but the transition to regular classes often causes problems. In large classes it is difficult to assess the individual educational situation of the children, to address it appropriately and to support them. Many teachers see the reasons for this in the lack of facilities in schools to deal individually with the children's educational histories. For the children, this situation means additional stress and frustration, which in turn further prevents them from learning.
The good deed
With your donation today, a refugee child is supported in working out a tricky maths problem. They have the chance to fill the gaps in their knowledge that have arisen through war and flight, either in their native language or in German. If the child has already caught up with the mathematics material, the mentors support them in other subjects in which there is a need. In this way, the children regain self-confidence and can participate more easily in normal school lessons. The good deed includes the support by Arabic-speaking teachers who are themselves refugees and can therefore easily relate to the children's situation. The project helps the children to better cope with the German education system. This contributes to ensuring that all children have the same chances of a good education and that refugee children have access to good educational prospects.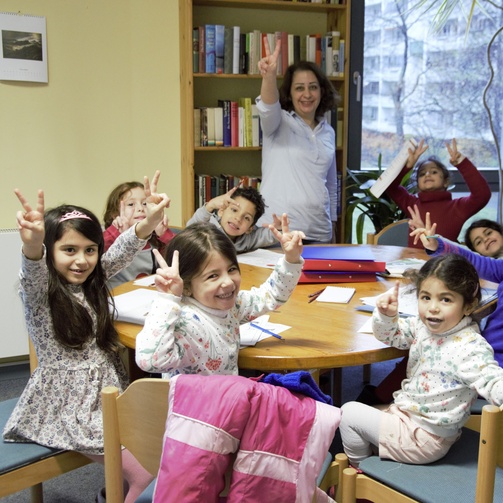 AboutGermany

Berlin 82,100,000 46,136 Placed 5 of 189
Germany has taken in the most refugees in Europe. The majority of these are under 30 years old.
About the organization and further information
Back on Track Syria e.V.
Website

Further information and source