Lessening the Impact of Cancer on Families
Homework buddies for children with a parent on their cancer journey
Nanny Angel Network (NAN) was founded in 2009 by Audrey Guth, a two-time cancer survivor, businesswoman, and mother of four. Audrey saw first-hand that many moms undergoing cancer treatment were in desperate need of childcare so that they could go to medical appointments or get much-needed rest. As the organization grew to serve more families impacted by cancer, we learned there was a huge opportunity to change outcomes for children undergoing the trauma of a parent's cancer or death. NANKIND has evolved from NAN to fill this need, supporting children aged 16 years and under through the most difficult time in their young lives. Audrey continues to lead the organization as we grow beyond the Greater Toronto Area to include families in the Kingston and Hamilton areas. As we navigated through the pandemic, we learned that we can effectively provide virtual programs and services to families. As a result, our goal is to provide support for families across Ontario impacted by a parent's cancer or death.
Necessity
Families impacted by a parent's cancer or death struggle to support their children academically, especially during COVID-19.
Activity
Experienced and trained volunteers provide 2 hours per week of virtual homework support for children impacted by a parent's cancer or death.
Countable effort
In 2021, 47 children received 1,279 hours of homework support from 42 volunteer 'Homework Buddies' in the Greater Toronto and Kingston areas.
Result
Compared to last year, we will deliver 30% more hours of homework support for children impacted by a parent's cancer or death.
Systemic effect
Children impacted by a parent's cancer or death receive the support they need to succeed at school and increase their self-confidence.
Background
When a parent has cancer, the whole family needs support. Many studies have shown that children with a parent on their cancer journey are at increased risk of emotional and behavioural problems (Morris et al., 2016). If left untreated, these problems can persist into adulthood. At NANKIND, we work to reduce the psycho-social impact of cancer on families. We support children and families at every stage of the cancer journey including diagnosis, treatment, recovery, palliative care, and bereavement. When the COVID-19 pandemic hit, NANKIND families were faced with increased challenges beyond coping with a parent's cancer or death: increased social isolation, mental health issues, financial difficulties. The NANKIND families struggled to provide nutritious family meals and support their children with schoolwork. In response, NANKIND pivoted to virtual support and developed a suite of programs and services to address the emerging needs of NANKIND families including support with homework and meals; peer-support groups for teens and parents; engaging and fun virtual programs for children such as Fun-in-a-Box and Camp-in-a-Box; and individualized Child Life counselling for children and parents. NANKIND's programs are developed by our Child Life Specialists, healthcare professionals trained to help children navigate difficult life experiences, and delivered by NANKIND's experienced and highly trained volunteers, 'Nanny Angels'.
The good deed
NANKIND launched its Homework Club in 2020 to address the challenges faced by NANKIND families during the pandemic. Homework Club provides children with a 'Homework Buddy' to guide, encourage, and help problem-solve through their homework. The program also provides parents with more time to rest and focus on their own wellness. Homework Buddies, who are carefully matched to the needs and interests of the child, provide 2 hours of virtual, one-on-one homework support each week. Families provide Homework Buddies with weekly learning objectives and homework as assigned by the classroom teacher. Homework Buddies also provide supplemental educational activities to complement the learning in the classroom. Homework Club benefits children by contributing to a school routine, encouraging a positive work ethic, helping to overcome learning obstacles, providing a safe environment for asking questions, modelling social skills, and promoting a positive learning environment.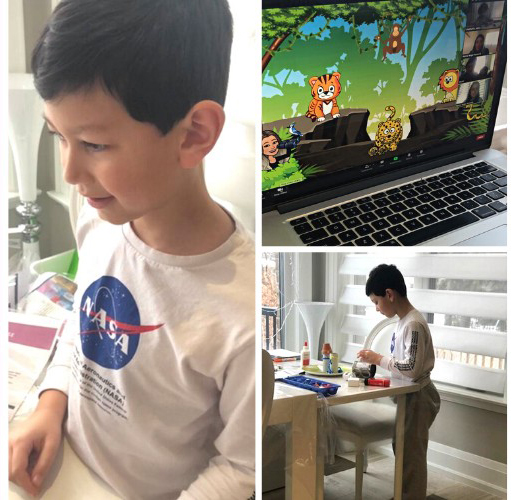 About Toronto, Canada

Our GOOD DEED takes place in Greater Toronto, Kingston, and Hamilton areas, ONT Population of Ontario
14,223,942 (2021) Per capita GDP
Ontario
59,879 CA$ (2021) HDI Ontario 0.937
3rd of Canada's provinces and territories (2019)
The Greater Toronto and Hamilton Area (GTHA) is a contiguous urban region with a population of 7.3 million. The GTHA accounts for more than 50% of Ontario's population.