Eco Inspiration for the Next Generation
Giving students information and inspiration to be environmental leaders
"Do less of this! Do more of that!" Kids know we need to be better for our planet. But sometimes they feel powerless. Sometimes the things they are told to be best for our environment are choices only adults can make. "Um, I'm only 8. I don't drive yet, and if I did I couldn't afford an electric car." "My mom thinks thrift stores are yucky so I'm only allowed to buy brand new stuff." "It's so cold here in the winter, my grandpa likes to keep his house warm like a tropical vacation from September to May. He says the heating bills are worth it." These are the kinds of comments we get from young people all the time. There are many ways kids can make positive choices for the planet, and even gently affect their families' habits. It's our mission to help them understand what they can do and how to do it.
Necessity
Environmental education and inspiration to create positive impact for our planet for children in Canada
Activity
Local eco-charity offers interactive plays and workshops for students ages 5-16.
Countable effort
56 schools will receive this motivating education.
Result
Students and teachers are empowered to make changes in their schools, homes and communities, resulting in less waste and better air and water quality.
Systemic effect
Inspiring future environmental leaders who will change the systems that uphold environmental destruction
Background
We are in a climate emergency. Human activity needs to change, from government policies to the practices of companies and corporations to the behaviours and habits of everyday folks. Many adults are set in their ways and are uncomfortable making changes to help our planet, their personal sacrifice outweighing the benefits to future generations. Youth around the world are speaking out, climate strikes are now commonplace in cities and towns on every continent except Antarctica. Slowly, in some places, change is happening. But not fast enough. People need to feel impassioned, motivated and supported as we as a species accept the harm we have caused and take fast and meaningful action to undo the damage caused. It's not easy. It's time future generations are heard. It's time we work together and make big changes so that generations to come will have a livable planet and be offered every chance at a healthy, happy life.
The good deed
Our GOOD DEED is meaningful education and inspiration wrapped in FUN! With theatre and interactive games and actives as our medium, students are moving and laughing and making creative choices as they learn about environmental issues. Our goal is that students and teachers gain a greater understanding of environmental issues, that they are equipped with tangible actions they can take to be gentler on our planet, and that they are inspired to take action. We encourage actions from living locally (100-mile diet, growing your own garden), to composing, to using active and public transportation, to avoiding purchasing over-packaged products, to spending more time in and learning about nature, to choosing to shop second-hand when possible. The changes we inspire include improved air and water quality in the area, less waste going to landfills, and a positive and empowered attitude towards our planet and our ability to better care for it.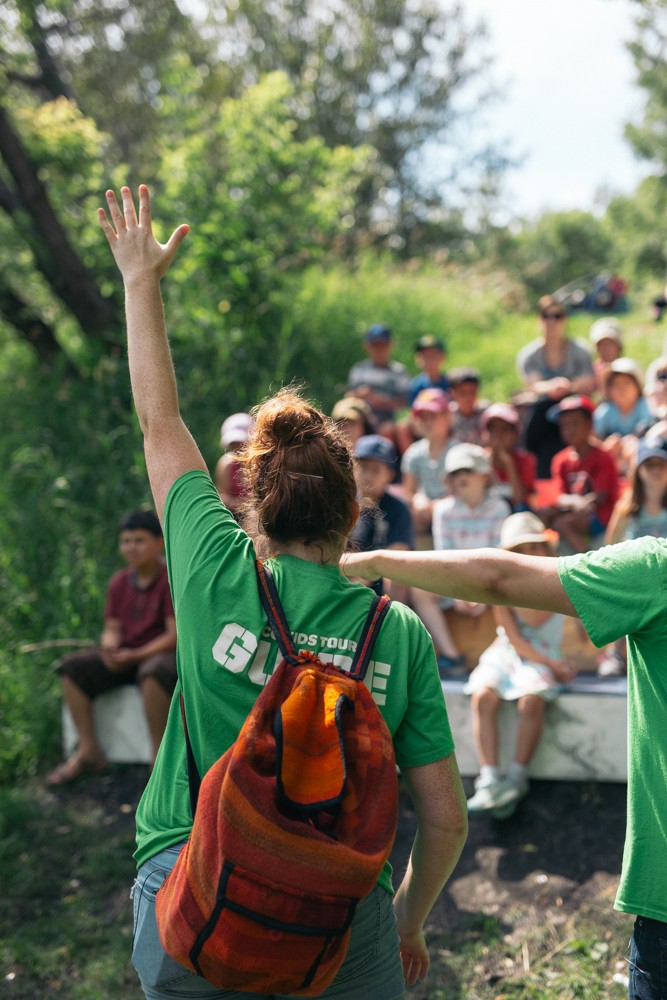 About Winnipeg, Canada

Winnipeg
Capital of Manitoba Population
Winnipeg
749,607
(6th biggest city in Canada) GDP of Winnipeg was $43.3 billion in 2018. Winnipeg was ranked the least expensive location to do business in western Canada (2012).
A winter city, Winnipeg sits in the geographic centre of Canada, but is relatively far from other major cities. Most of Winnipeg's food and products come from very far away.